Beauty from every Angle:  Bijinga
Don't miss "Bijinga" – the paintings of beautiful women, one of the key elements of the Fukuda collection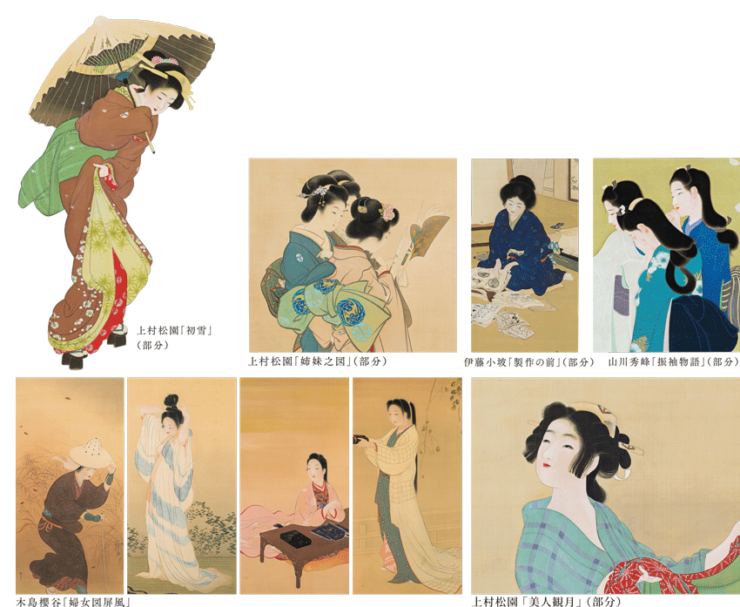 "Bijinga" is a term for paintings of beautiful women reflecting various viewpoints such as appearance, fashion and heart.  Bijinga became a major subject of Japanese painting after Meiji era (1868 – 1912)  and attracted many artists.  Uemura Shoen (1875-1949), a painter representing Kyoto, established her original Bijinga style and became a pioneer of female painters when women found it difficult to choose artists as professions. She was the first woman who received the Order of Culture.  "Beauty from every Angle:  Bijinga" exhibition focuses on Shoen's works in which she pursued her ideal beauty.

In addition, we exhibit Bijinga of many famous Japanese painters such as Kaburaki Kiyokata (1878-1972) and Ito Shinsui (1898-1972).  The folding screen describing beautiful women was painted by Konoshima Ohkoku (1877-1938) who recently gained popularity for his fantastic animal paintings, and has been missing for a long time.  Please enjoy the techniques of the painters who elaborately describe the costumes, actions, and expression of beautiful women.
"Yuki-onna" – a rare Shoen's work exhibited in public for the first time
We recently found the original work of "Yuki-onna" (literally snow woman). You might not believe that this is also painted by Shoen, comparing with her other delicate and colorful works. Please enjoy her diverse artworks.
Title
Beauty from every Angle:  Bijinga
Dates
January 29 (Wed.) to March 8 (Sun.), 2020
Opening hours
10:00 am – 5:00 pm (last entry 4:30 pm)
Closed
Tuesdays (opens on February 11 as it is a public holiday) and February 12 (Wed.)
Entry fee
General / University student: ¥1,300 (¥1,200)
High school student: ¥700 (¥600)
Elementary / Junior high school student: ¥400 (¥300)
Disabled person and up to one helper: ¥700 (¥600)
* Prices in parentheses are for groups of 20 or more.
* Free for preschool children
To purchase advance discount tickets, click here
Advance Tickets priced down from ¥1,300 to ¥1,200
Organizers
Fukuda Art Museum; Kyoto Shimbun