Opening Commemorative Exhibition: The Fukuda Collection
An elusive collection of works by Okyo, Jakuchu, and Shoen . . . 
The Fukuda Collection All Stars Sessions I and II—exhibit contents almost completely switched out!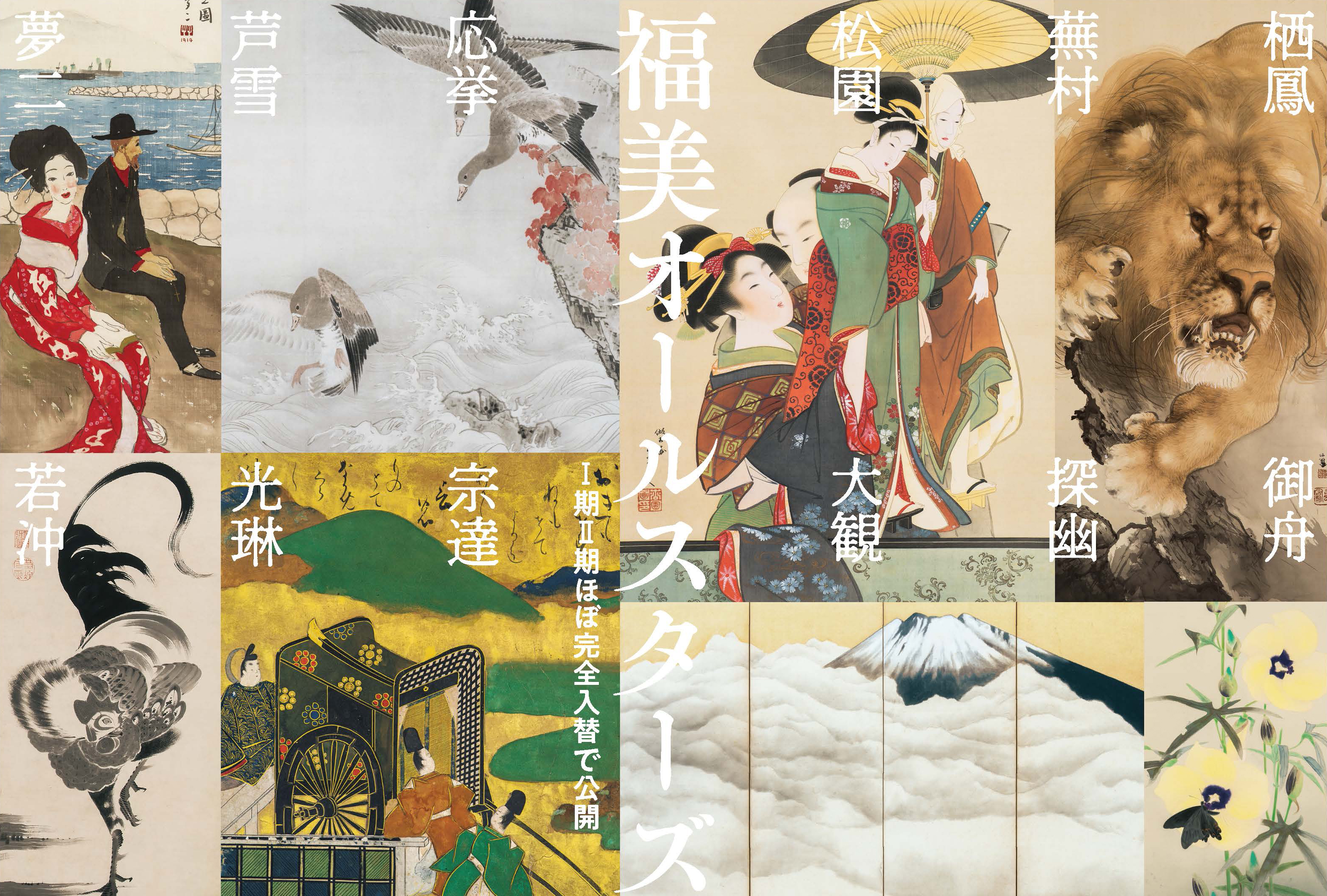 Saga-Arashiyama: In spring the cherry blossoms dance in the wind; in autumn, the land is painted in red and gold.
Since ancient times, the Saga-Arashiyama area has been loved by nobles and cultured people, and served as a source of inspiration for outstanding art. In October 2019, this wellspring of culture will become home to the Fukuda Art Museum.
Based on the concept of "Striving to Create a Museum That Lasts for 100 Years," our museum is intended to convey to the next generation the Japanese culture that has come down to us from previous eras, and to contribute to its further development.
To commemorate the grand opening of the museum, we are unveiling all at once a vast collection of our most prized pieces: from Edo Period works such as those of the Rinpa school of Tawaraya Sotatsu and Ogata Korin (1658–1716), the Kano school of Kano Sanraku (1559-1635) and Kano Tanyu (1602–1674), and the Maruyama-Shijo school of Maruyama Okyo (1733–1795), Nagasawa Rosetsu (1754–1799), and Goshun (1752–1811), to works of Meiji and later by such artists as Takeuchi Seiho (1864–1942) and Uemura Shoen (1895–1949).
First Time Shown to the Public! And Now the Elusive Collection at Last!
Particularly impressive must-see works are Kano Tanyu's Dragon and Clouds and Konoshima Okoku's Umayaji no Haru (Spring of a Main Road) (unveiled 78 years ago and then lost) and Hashimoto Kansetsu's Emperor Godaigo.

Title
Opening Commemorative Exhibition: The Fukuda Collection
Dates
The first term: October 1 (Tue.) to November 18 (Mon.), 2019
The second term: November 20 (Wed.), 2019 to January 13 (Mon. & Holiday), 2020
Opening hours
10:00 am – 5:00 pm (last entry 4:30 pm)
Closed
Tuesdays (following day if a holiday) and December 29 to January 1, inclusive
Entry fee
General / University student: ¥1,300 (¥1,200)
High school student: ¥700 (¥600)
Elementary / Junior high school student: ¥400 (¥300)
Disabled person and up to one helper: ¥700 (¥600)
* Prices in parentheses are for groups of 20 or more.
* Free for preschool children
Organizers
Fukuda Art Museum; Nikkei, Inc.; Kyoto Shimbun